1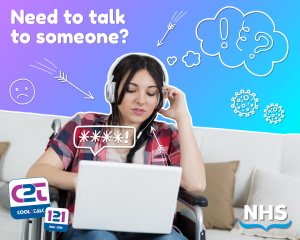 2
Welcome to the one2one

121 is an on-line chat service with a counsellor, they will be here between 8pm and 9pm on a Monday, Tuesday and Wednesday this week.
You can get 30-50 minutes for each session using secure instant messaging. This is a safe space to chat confidentially and anonymously about any worries you may have and know someone will listen and not judge.
You will not see the counsellor and she will not see your face, it is all achieved using instant messenger style.
Also nobody can see you are there except the counsellor, equally you cannot see that anyone else is in the waiting room.
If you log in after 9pm the  counsellor will no longer be available.
3
Sometimes things get really tough and you may be having suicidal thoughts, or have a plan in place to kill yourself.
In these situations we want you to get the best support as quickly as you can. Online support is not the best place to get this kind of support, therefore if you are feeling like this please call Childline ( 08001111) or The Samaritans (116123).
There is always someone available to listen to you and these organisations offer an immediate and confidential service.
4
Scroll down and read through the tips we have added to help you when using the 121 service, also the information about confidentiality.
5
Ready to talk to the counsellor now? Click on the pink speech bubble below when the counsellor is available. If you find it is not for you then with another click of the button you are gone and nobody knows who you are.