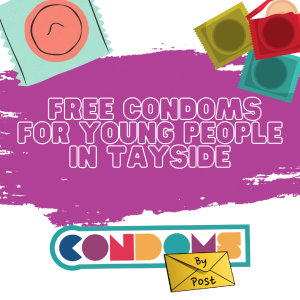 Using condoms is the only way to protect against pregnancy AND sexually transmitted infections.
Anyone, aged 13-25, can access free condoms from loads of places, all across Tayside. 
If you are aged 14 or over and live in Tayside, you can use our condoms by post service & order a pack of condoms FOR FREE!
This service is available to people living in Angus, Dundee and Perth & Kinross. If you live elsewhere in Scotland, click here for details of Condoms By post schemes in your area!
We ask that you use your own email address for the order as we may need to get in touch with you regarding your order.
Tayside CCard
The CCard Scheme, allows you to get condoms in the way that suits you best!
Find out more HERE
To get condoms, simply visit any one of the CCard outlets and speak to the staff there, they will give you support and show you how to use condoms properly, so that you can feel more confident about having safer sex and enjoy it. the workers are trained, non judgemental, and the service is confidential.
Having a CCard, shows that you have had a condom demonstration before, and have spoken to a worker, it means getting your condoms is a much quicker process.
You just, have a chat with the worker, tell them your age and which condoms you want. If you want, they will give you a code to unlock your app or give you a CCard. You can then go to any of the other outlets to get free condoms.
Look out for the CCard sign and  click here to find out where to go.
What are Condoms?
Condoms are made of rubber and cover the penis, this is so that semen and other fluids released during sex are not passed between partners. By using condoms during sex, you are less likely to catch an STI and more likely to avoid unplanned pregnancy.
You can use condoms for Anal, Oral and Vaginal sex – it's important to use a different one each time!!!
CLICK HERE for a link on working out what kind of sex you like
How do you use a condom?
Condoms can be pretty fiddly so it's a good idea to practice on something before you start having sex.
They are more likely to break if they get dry, so if this happens to you you might want to have some water based lubricant with you too. ou can get this at any sexual health service or CCard/condom outlet.
If used correctly, condoms will work 98% of the time! If you don't put it on properly, that drops to 80%!!!
Open the package carefully (don't use your teeth!)
Make sure the tip is pointing up and the ring is on the outside.
Pinch the tip to squeeze the air out.
Place the condom on an erect penis or sex toy and roll it all the way down.
When finished, hold on to the bottom of the condom when withdrawing the penis, to stop the condom slipping off.
Make sure no semen spills out by tying a knot in the condom. Put it in a bin, not the toilet. (it'll block the toilet, silly)
Make sure your condom has the British Standard Kitemark or the CE European standard mark. Check the expiry date of the condom.
If you have sex again, use a new condom.
If a condom breaks or you have sex without using a condom, remember you can get Emergency Contraception from your pharmacy or GP free of charge. Click here for more information.
Safe oral sex
Remember, it's not just vaginal or anal sex that passes on STIs. You can catch chlamydia, herpes. syphilis and gonorrhoea from having unprotected oral sex. The HPV virus which can cause genital warts, can also be caught from having oral sex.
Make sure you're safe by only doing things you want to do and using a condom or dental dam. Flavoured condoms are available too.
Ten ways a condom can't protect you ….click here for a short film